(↓English Version)(レナのインタビューの英語版)
Toward the "Fly! ANA Windsurfing World Cup YOKOSUKA Japan"
────Windsurfing Magazine Japan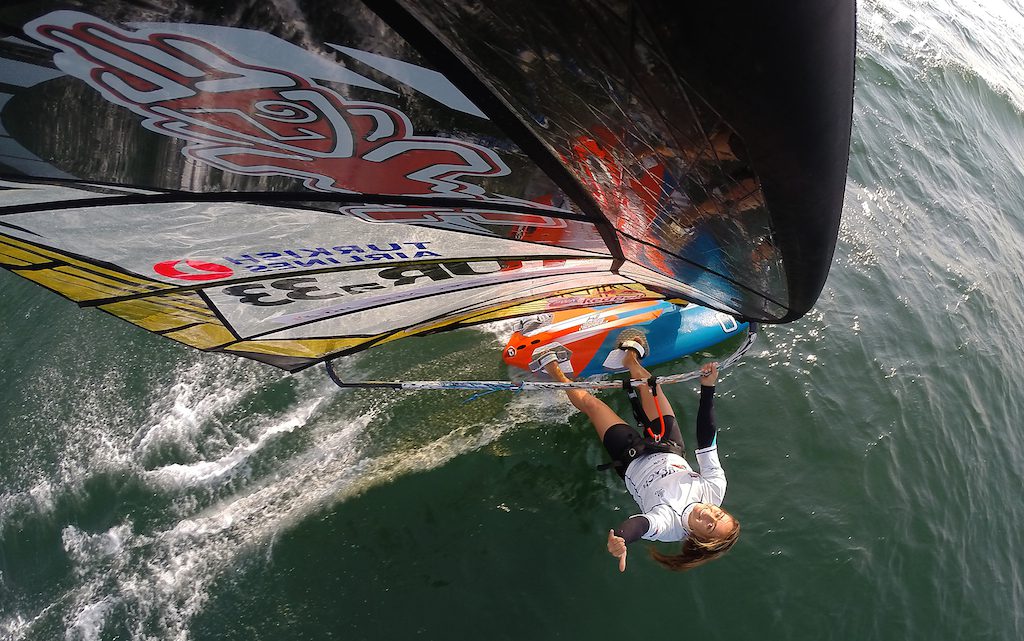 Q1 Where do you think is the strong point as your slalom racer.
Then, are there any weak points recognized by yourself?
A1 I think my strongest point are my jibes, I am quite good at negotiating my way out of a crowded jibe mark a few positions ahead of how I went in.
I think this stems from the fact that one of my weaker points was always my speed and I had to make up for this by jibing well.
I always try to improve my speed and I think another one of my strong points by now is racing experience. I have been competing for quite some years now and know more instinctively how to act in certain situations.
Q2 You will have many rivals. Who is the one that is likely to be the most competitive among them.(Why do you think so ? )
A2 The last 4 years I have been sharing the Podium with Delphine and Sarah, so I have no doubt that they will be very competitive as always.
They are both extremely good competitors and talented sailors, its always a great fight with them.
At the same time most other girls in the top 10 are really strong and anything is possible so lets see all that is sure is that there will be a lot of exciting racing going on.
Q3 It was 3rd last year and 2nd last year.
What do you think is necessary to become a champion this year?
Please let me know your race plan for the coming season.
A3 I will be attending the whole PWA world tour and also the turkish tour. My plan is always to do the best I can, of course I want to win but I know that my rivals are strong so it will be a tough fight. I managed to win 2 out of 3 finals last year so I know I can win, I just hope for many races good wind and good competition.
Q4 Who feels the most marvelous in Japan's racer?
A4 The Japanese girls fleet is really strong Mio, Ayako and Onishi have been doing quite a few events over the last years so they all have what it takes to win races. I am really impressed with most their speed specially considering that they are on the lighter end of the sepctrum of sailors.
Q5 In May this year, the World Cup will be held in Japan. Can you please comment at the end for Japanese fans.
A5 I am so excited to come to the World Cup in Japan. I had a chance to visit Japan for only 3 days last year on my way to new caledonia and I loved Tokyo and the Japanese culture!
I also had a chance to go to the tears windsurf shop and check out the spot where the event is going to be. It looks like its a spot with good winds and flat water, I can't wait to compete in Japan and hope that there will be good interest from the general public.
I have no doubt the event will be organised well and am really looking forwards to going to Japan again.